Click on the images to see more!
Living sustainably is not a new idea, the local First Nations were doing it generations before any settlers or immigrants came to Canada. It is important that we recognize that most anywhere in the world that has been settled encroaches on the traditional lands of indigenous communities.
In Canada, where our team began our rediscovery of sustainable community living, we settlers are uninvited guests on the lands of countless First Nations. Given that, it is only basic decency to make meaningful efforts to respect the traditions and beliefs of those we have displaced, even if the act was done before our time. In our pursuit of sustainability is only basic wisdom that we should ask those who have lived sustainably for centuries how we might do so again.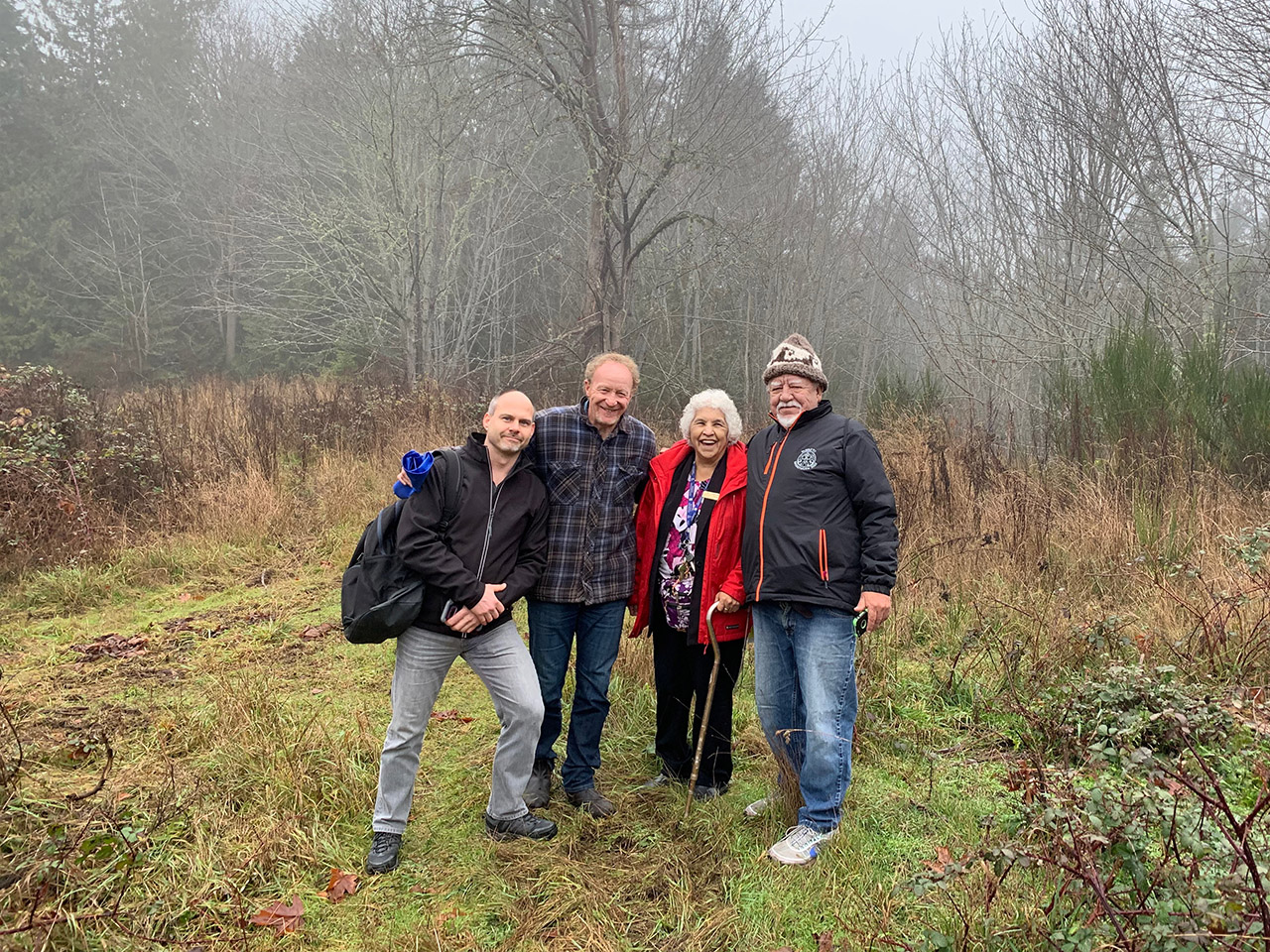 In early December of 2019, with the gracious coordination and support of Les Malbon of Vancouver Island University, two First Nations elders honored our work of building sustainable communities by touring the site of our first project. That project is based on traditional Snuneymuxw First Nations lands.
Elder Florence James and elder Gary Manson walked the site and shared their traditions and wisdom in a most generous way. Elder Florence, known belovedly by her community as Auntie Florence, travelled from Penelakaut Island and brought with her a knowledge of plants and natural medicine far beyond that which I had been exposed to before. She also shared her fluency in Hul'qumi'num (one of main dialects of local First Nations) in giving us all the names of plants and trees we found.
We ended the site visit with a prayer (look below to hear the prayer Elder Florence has allowed us to share) on the land and a sharing of some origin stories. Elder Gary Manson, who carries the honorific of Uncle Gary among the Snuneymuxw First Nations, graciously offered further guidance and input as we hone our efforts to be fully sustainable.
As we ended our visit, the elders offered our community a First Nations name based on some of the core ideas that myself and Jack Anderson are driven by. The name they offered us was "S'a'lhstum 'Uxwiin Shxunutun." (look below to hear the pronunciation)
The first word refers to someone or something treated with care, the next two mean "small footprint". I was deeply honored at this offering and was somewhat stunned to hear the first word, which sounds very similar to my son's first name, Austin. As both my partner, Jack Anderson, and I realize our efforts are about leaving a legacy for future generations, I could not ignore this similarity. The decision was then made to not only embrace and accept our new First Nations name but to complement it by giving the community the English name of "Austin Greens." One community, two names; combining the wisdom of First Nations meaning with the love and appreciation we have for our family.
Chad Thiessen